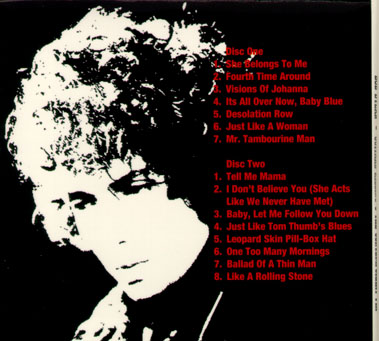 This is the back cover. Going through all this twice, here's the track listing, conveniently rendered in a font almost as small as on the scan ...

Disc One
She Belongs to Me / Fourth Time Around / Visions of Johanna / It's All Over Now, Baby Blue / Desolation Row / Just Like A Woman / Mr Tambourine Man

Disc Two
Tell Me Momma / I Don't Believe You (She Acts Like We Never Have Met) / Baby, Let Me Follow You Down / Just Like Tom Thumb's Blues / Leopard Skin Pill-Box Hat / One Too Many Mornings / Ballad of a Thin Man / Like A Rolling Stone

Use the icons below to see other scans.

Front cover. Acoustic set
Inside cover. Electric set.
CD sleeves.