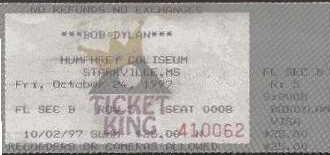 STARKVILLE MS, 24 Oct 97
Before the Crash (Pt 1)
Foreword, forewarned & flameless: This is the 1st of two long IMHOs. If you want to read the setlist, consult Bob Links: http://www.execpc.com/~billp61/dates.html
Since one of the Bills P has already written a terrific, well-reasoned review of Starkville (and since I stood only a few feet from him during that show *and* since my opinions are tainted from lengthy discussions afterwards), it's difficult for me to start. But I'll try. Otherwise those who know no better will keep nagging me to death...
There are concerts & there are concert experiences. For me, the shows in Starkville & Jackson was sort of an r.m.d. road trip. And some folks really went out of their way to make the parties & gatherings memorable. So... special kudos for the Starkville experience go to Jim T who arranged a pre-pre-concert gathering at a camp outside of Louisville MS. Jim's directions were easy to follow: turn at the 2nd dead possum, go past the graveyard & way down a dirt road. There were new faces to meet & familiar faces to greet, 10-12 folks, I guess: film-makers, musicians, nurses, local losers, refugees from the insane asylum, mathematicians, truckdriver's wives, you name it. Around 6PM the assemblage headed up to Starkville to the pre-concert gathering at an off-campus bar ("Cheers").
It isn't every day that I stroll into a strange bar & smack into the EDLIS Dylan & Christianity agent! Much matching of faces to email sigs was taking place & the bar was well-equipped with Red Stripe & Shiner Bock. After only a few minutes, it was time to follow-the-leader over to Humphrey Coliseum (a basketball arena) for showtime.
Being widely known as an infrequent flyer, I became the beneficiary of an upgrade from cabin to 1st class & spent the evening on the rail directly in front of Bucky's little workshop. Thank you ev'rybody :-)
In fact, the matchless Mr Baxter was sitting sans hat & coat at the pedal steel trying to tune or fix something before the show. (Later, the steel guitar would be removed temporarily from the stage for work.) To the left of Bucky's "usual" position was a vintage Vox Continental organ. The keys themselves were not visible to me, so I've no idea whether it was original or a hot-rod...
Bucky disappeared backstage & the incense was lit. It was starting to smell like a Bob Dylan concert...
There was little warning -- the houselights didn't dim until well into the 1st song -- when the announcer began the liturgy: "Ladies & gentlemen, please welcome..." So I don't get to use my favorite line about how the crowd began to stamp its feet. (Oops! I guess I did ;-)
And there's the Bard, clad in the most ill-fitting stage suit I believe I have ever seen. I think Bill P described that adequately <g> The band looked sharp: Bucky in a cool red-on-purple (?) suit & hat (Homburg?), Tony in brown suit & leather beret, Larry Campbell in black frock coat, Kemper fronting a great looking (and superbly utilized) kit. Bob enters from the center, moves pretty quickly to get his Strat slung on, steps to the mike, and...
ABSOLUTELY SWEET MARIE - This is the 1st time I've heard this as an opener, but it compares with Drifter's Escape & Crash on the Levee for intensity & punch. Bob's voice is not tentative or low in the mix for me, but I'm a little closer to the monitors than Bill. And we're getting mostly monitor mix where we are... "To live outside the law you must be honest." This song is coming from the heart & gut!
IF NOT FOR YOU - The #2 slot slow-down song. Done nicely with only a couple of muffed lead licks by Bob (the few I remember of the night). I always feel uneasy when those happen, altho I've never seen him unable to bail himself out. But we get thru the song intact, and Bucky's turning to the Vox organ. What is this?
COLD IRONS BOUND - Oh. There are no superlatives sufficient for this! Somehow that "atmospheric" everyone attributes to Lanois studio wizardry is floating around the room, even down in the monitor mix. I begin to suspect Bucky's Vox is "loaded" -- perhaps a Roland or Ensoniq sampler stuffed inside -- but he doesn't play it again... Who knows?
YOU AIN'T GOIN' NOWHERE - Bucky & Larry contribute to a 3-part high lonesome harmony & a great a cappella ending. This would translate well to the acoustic set, IMO. But there's barely time to scream & clap before an insistent, loping bass riff cranks up and...
CAN'T WAIT - Oh. Oh. *Two* live debuts! Bob has us strolling through the lonely graveyard of his mind. This is better than the studio version. This will be a must-have tape! Until now, I haven't realized that this song is as psychotic as anything from 1965-66. This is a really scary song. Ominous sounding. I love it :-D My chin is in my hands, largely to keep it from hitting the floor. For recovery, the band begins a familiar bouncing...
SILVIO - With the exit of John Jackson, this song is much less Dead-like. There is still the obligatory "space" solo break, where everything gets arrhythmic for a few moments, but it seems shorter than of old. Bucky & Larry shout harmonies on the chorus -- much more prominent than in the past. All the Jerry's Kids are be-boppin'. Happy. I, too, base my future on a helluva past :-) And it's time for the acoustic set. Bucky's pedal steel is removed from the stage.
STONE WALLS & STEEL BARS - I knew to expect it, but I didn't know what to expect. This one punches out with an opening 3-part harmony! Wow! Nice.
TANGLED UP IN BLUE - How come I never get tired of hearing this thing? Tonight doesn't sound much different from other times I've heard it, but it's totally new, fresh.
MR TAMBOURINE MAN - Bill P commented on the precise enunciation on this song, the attention to lyric delivery. A perfect recitation but bloodless. Or maybe Bob was delivering emotion in crystalline form. I'll have to think about this. Hmmm... Anyway, you won't hear this done any better -- in Starkville MS on a Friday nite, a least ;-)
It's been mentioned that Bob was seriously sweating by now. He was soaking thru that horrible suit & there was an ever-present drop hanging from the tip of his nose. He works his ass off, folks.
Bucky's steel is toted back out front, and now it's back to the electric gee-tars... This sounds familiar, what is it?
'TIL I FELL IN LOVE WITH YOU - Oh. Oh. Oh my goodness! Three live debuts! This is an embarrassment of riches! I didn't much care for TIFILWY on TOOM, but this much better. Larry Campbell is stepping up with lead fills & duet riffs. At the end of this, folks are staring at each other in the audience holding up 3 fingers, stunned. And now, what is this thing Campbell is strapping on? A mandola? Oud? Mando-guitar? Uh-oh.
BLIND WILLIE MCTELL - Count this as a live debut for Joe. Bobby slurs around the 1st verse but that hoot owl is clear as a bell & I can picture that young squire with his bootleg clear as day. I'm staring out that window along with Bob, it seems. The mandola (oud? mando-guitar?) added a neat texture to the sound -- east Texas lament meets tribes-a-moanin'. Bob's vocal might've been stronger, but heck, it's been a long nite & he's drippin' sweat like a bluesman in a barrelhouse.
HIGHWAY 61 REVISITED - Bill called this attack of the killer guitars, which is accurate enough. A good rave-up, but nothing to compare with Birmingham last year, IMO. Tapes will tell. Anyway, Bob has played this at every show I've seen in the past 2 years (all 3 of them ;-) I guess I need to travel more :-D
Time for the ritual Zippo break. They're right back out, Bucky insistently smoking while he steels his heart out for the first encore:
LIKE A ROLLING STONE - They stand for the national anthem & everyone's standing now. The lead break changes rhythm briefly, it seems, very much unexpected by me & very much enjoyed. Then, another ritual bow, exit & re-entry for the acoustic encore:
DON'T THINK TWICE, IT'S ALL RIGHT - Live debuts aside, this is the highlight of the evening for me. I've heard Bob do it before, but he's really enjoying himself with it tonight. The lyrics are delivered clearly & there's even a self-parody (or maybe a parody of Joan Baez doing *her* Bob-sendup? :-) The pickin' is sweet, too. Ritual trot out thru the curtains #3. I'm expecting...
LOVE SICK - This was the only TOOM track that I really thought I'd hear. It sounded terrific - Bob certainly knows his songs well before he starts singing. In every case this evening, the new songs appeared to be well-recognized by the audience & superbly rendered by the artist. Bob seems really proud of these songs & it looks at times like the band is getting a real kick out of that. Which ups the performance incredibly. The wierd, slow build-up & fizzle-flop ending are rendered spotlessly. This time there is no ritual exit before they crank up that familiar descending scale. Which can only mean:
RAINY DAY WOMEN #12 & 35 - The concert is over. The jokerman has left the arena. Folks scuffle for the cue sheets, scuttle for their cars.
A few minutes later, I am leading several cars down Hwy 25 toward Louisville, guiding them to the campsite. I remained there only a few minutes, long enough to realize that I'd just heard the concert now playing on the stereo & that two guys were dousing a bonfire with gasoline near my truck. I dunno if they were planning to sacrifice a virgin or anything, but I certainly didn't want to sacrifice my GMC. (Someone else will have to comment on any social indiscretions & pagan rites that may or may not have transpired up the Highpoint-Weir Road ;-) For me, it's way past midnight & there's people all around...
So back I headed to the motel to see what's cooking.
What was cooking was snacks & late nite retrospectives with more rmders. What a treat! Those of us who for whatever reason can't travel widely for tours really appreciate those who can & who share their experiences. The soundcheck was playing in one room, when Highlands began -- no vocals & only 10-15 sec worth, but definitely Highlands. Oh my goodness gracious! The perfect ending to the beginning of a memorable weekend.
As Rhett's girlfriend once said, tomorrow is another day. A really interesting day. I have no idea how interesting it will turn out to be. Before & after the crash.