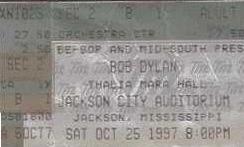 JACKSON MS, 25 Oct 97
Before & After the Crash (Pt 2)
Disclaimer & flame-proofing: This is the 2nd segment a long MHO. If you want the setlist, cue sheet, etc., go directly to Bob Links http://www.execpc.com/~billp61/dates.html
R.m.d. centrale in Jackson was the Cabot Lodge motel. Reservations were for the "Bob Dylan Group" on the motel computer. So nice to leave a room door open, go next door & visit! Mid-afternoon found a faction poised over BBQ shrimp, crawfish etouffee & other assorted crustacea. Then back to the motel for clean-up, naps & pre-concert preparations.
I'm sitting in Bill P's room (not *that* Bill P, the other one! ;-) chatting when a fellow walks in looking for me: Colin H, standing in the doorway fresh from another type of campout in the rain & ready for Bob! Bill & I repair back to the oyster bar for more crustacea & conversation, while Colin finds a laundry to wash his clothes down. We are sworn to secrecy about the EDLIS matters that were discussed, of course, but suffice to say that we lived outside the law honestly, eventually paid our tab & left the bartender laughing!
Over to Charlie S's for the pre-concert party. Faces from the Starkville show appear, new faces pop up. Charlie will be cleaning up for a month! A nice video is on & Willie Nelson is playing. Newspaper(wo)men eating candy, young girls pulling muscles, the whole 9 yards. Plus Charlie's place is exquisitely decorated with posters, books & other evidence of see-rious bobsession. Sociologists start studying Bobcat behavior & the names run into a jumble. Words leave my head & fall to the floor. Then, it's into the cars, around the block past Yazoo Street (scandalous!) & over to the venue...
Which had no concessions, nice chairs & a layout that meant that those who stood didn't block views for those who didn't. Bill & I find our 2nd row seats & proceed to stand up for the whole show. Most of the crowd sat... (Wierd? Well, those *were* comfy seats, but *how* can anyone sit in the presence of a living legend? Beats me :-)
Incense begins to curl behind the pedal steel & drum kit. There's a cheer when word arrives that there are no more tickets at the box office. It's a full house! The lights dim on cue this time, the invocation is pronounced & there's Bob & the players!
Better outfit tonight, Bob: black jacket, dark slacks with white stripe (the slacks looked brown at times, black at others depending on lighting), electric blue shirt & string tie. Better fit. Same godawful shoes (they must fit well ;-) & no hat. At least we won't see him sweat through this suit! Bucky wears the same outfit as last nite, Larry wears a blue frock coat & Tony has a '50s style black shirt with white front, the leather beret.
ABSOLUTELY SWEET MARIE - Just as absolutely sweet as last night. A hall made for music sure beats a basketball arena! The cue sheet showed Maggie's Farm as alternate & Christine insisted post-show that Bob tried to switch but couldn't get the band with him. Doesn't matter to me -- I'm dancing! That fever is reaching right down to my pockets! Persian drunkards indeed! A lady nearby exclaims, "This is like good sex!" I give her Craig's number ;-)
LAY LADY LAY - Okay, I usually see the #2 spot as "filler", but this is the very best LLL I've ever heard bar none, sung right. Why wait any longer for the world to begin? Get the tape! Bob's very animated tonight & Campbell is fully engaged with the rest of the group. Super super super! Cue sheet alternates included Tonight I'll Be Staying Here with you, Peggy-O & Long Black Coat, but I can't grieve because LLL was done so well. I'm stunned & flop back into my cushy seat for about 2 seconds. Only the 2nd song & I'm done in! What will snap me out of this artificially-induced religious experience? I don't have long to wait...
COLD IRONS BOUND - Not a debut but soooo fine. As good as or better than last night. Bucky on the Vox organ. What can I say? You won't believe it 'til you hear it live, so go buy a ticket & hear it LIVE!! Buy another ticket & hear it again LIVE!!!
I'LL BE YOUR BABY TONIGHT - Great country song. Clear. The newspaper next day called this "polka rock" & it *was* a "name that tune" intro. Very fresh & bouncy. This is going really nicely, folks!
CAN'T WAIT - As at Starkville, the cue sheet showed "I" Can't Wait. And again, a fine rendition. It will take repeated listens to say whether the new songs were done better in Starkville or Jackson, but the differences are subtle. The new songs fit the format of Bob's shows very well -- almost like they aren't new songs at all but polished classics. And they're bound to grow as the tour progresses.
SILVIO - Better than last night, IMO, but still missing the Deadness. No question from the cue sheet that this was intended to be a 6-song opening set... (Starkville listed 5 songs in the 1st electric set with Silvio as an alternate for Can't Wait.) Bob strikes poses. Going down to the valley to sing my song, you bet! The band moves quickly to the acoustic instruments.
STONE WALLS & STEEL BARS - Oooh! Those high lonesome harmonies are so fine tonight! The opening harmony is very strong, ultra precise. Tight. Interestingly, the cue sheet showed Be Not A Stranger (overheard post-concert as "Beat On A Stranger"), Cocaine & Oh Babe It Ain't No Lie as the choices. It would've been nice to hear something different tonight, but this Stone Walls was 100% better than last night (and that's saying a lot!) Larry is really singing & smiling, into it tonight. No three time losers here, folks.
TANGLED UP IN BLUE - Again? But there's a subtle difference in the phrasing tonight. It's not happenstance, either -- Bob's phrasing the song a new way. In fact, it ceases to be a subtle difference, it's as plain as the ever-present drop of sweat on Bob's nose. I've never heard it like this before. Very good. Like hearing a different song from last night.
MR TAMBOURINE MAN - Another repeat not shown on the cue sheet (which listed Love Minus Zero & Baby Blue instead). But if the Starkville performance was crystalline & bloodless perfection, Bob pours in some dark heat, the frozen emotion begins to melt, and... oh wow! Even the crew members are smiling.
The electricity is coming back on... Absolutely no stage press. The hall layout prevents it & big police hold us down, kindly directing those who try back to their seats. I'm seated next to a guard wearing a WWJD bracelet, a nice kid & bored to death. He catches one photographer, smiles & tells her to go sit down & to not use the flash any more. She keeps her film. Several folks in the front row stay seated for the whole show, which strikes me as a bit of a travesty, but our little group stays standing.
'TIL I FELL IN LOVE WITH YOU - Performed a bit better than last night, I think. The band rises to the challenge & Bob pours it on. Better than the track on TOOM by a long shot! Campbell is scanning the balcony with an amazed expression on his face. Bob's letting us have it, smiling & ducking back from the mike between lines.
WHEN I PAINT MY MASTERPIECE - Another new one for Joe! One of my old faves. It keeps growing & expanding. Bob must enjoy it, because he sings the bridge & last verse twice with double the conviction. Not Dark Yet & Standing In The Doorway are listed as alternates, but I can live with this! (Note: You couldn't get a cold drink in the land of Coca-Cola tonight.)
HIGHWAY 61 REVISITED - A real crunching arrangement. Highway 61 is only a few miles west of here. Highway 51 is just a few blocks away. The crowd is (finally) on its feet. Larry & Bob trade lead lines. And it's time for a smoke break ... hardly even time to flick the Zippo... They're right back out & crashing into...
LIKE A ROLLING STONE - The crowd gets into this one, of course. I'd like to hear something different by now, but hey, I'm dancing, so who cares? :-) Afterwards, the players dispense with ritual & stay onstage, change instruments & haul straight into...
IT AIN'T ME BABE - What a great rendition! There are times when I think Bob Dylan & his touring band may be the best string band in America. This is one of those moments. No! No! No! It ain't me, babe!
LOVE SICK - High crowd recognition. Great performance. My brain is soooo wired! That fade-away, give-it-up ending! Bob looks out with his "I'm 214 yr old & I've seen it all" expression, so pitiful! There's no actor anywhere better than *that* Jack of Hearts. I'm sick of love...
RAINY DAY WOMEN #12 & 35 - As always! The crowd is waving fists & shout-singing along. And then Bobby is bowing for the last time. As a first for me, *nobody* gets on stage during this concert.
Back to Charlie's for pizza & visitation. More folks start coming in, tapes are reviewed, the stove catches fire & the oldster decides to repair to the motel to make more room on the couch... Great party, Charlie!
The Crash
Motel room, 1AM -- My message light is on. Call your wife, desk clerk says. Last year, this meant that a last-minute change of plans gave me an extra concert... my heart's a-thumpin'... but... There's been a car wreck. Nobody hurt. Vehicle totaled. Well, that caps the weekend -- no chance to make a three-fer in Mobile tomorrow, er, tonight. Awww...
Lobby, 9AM -- Cue sheets are distributed along with the morning paper. Nice motel to have FAX, copier & computer ready for everyone. Coffee & breakfast. Farewells, final negotiations... Some head south for Mobile, some (like me) heading to the real world again. It was fun, it was real & the crash notwithstanding for me, it was real fun. Fortunately, it was not "Real Live". It was real, live. And I'm heading south to check on a seriously mangled piece of sheet metal that used to be my van. Life goes on... Sheet metal can be fixed. Everybody must give something back for something they get. I won't be buying that DAT any time soon, folks :-(
Thank you ev'rybody: the Bills P, Christine & Josh, Pat, Jim T, Charlie S, the Nancies, K-Run from the insane asylum (*and* Monique from the bowling league), John & Jennifer W, Colin, & my honorary son, Rhett -- you all made it a special weekend in spite of the nasty ending. It was homecoming weekend at a lot of colleges & it was homecoming weekend for this ol' rmd-er. Special thanks also to Craig for providing guidance about what NOT to do at apres concert gatherings & for staying in England ;-)
So... If you have the chance to catch this tour, take the chance. Go. Take a couple of chances. I've already picked up the bad luck tab, so the law of averages is on your side! Find that r.m.d. party & rave on. It's a crazy feeling.